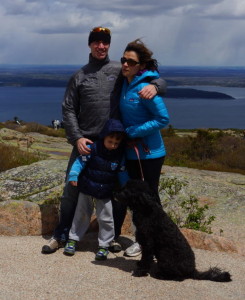 Our subtle introduction happened at our good friend's, Josh and Tiff's, house party in April of 2014. When Sarah walked in she lit up the room, and Michael noticed. Another shared party, and an accepted invitation to see Michael's slide show from his recent year of travel, our paths kept crossing. Intentional? Both being part of the close-knit Boston rock climbing community, it is strange we had never met. We share many friends, and have spent endless hours playing on the same rock walls. This was now our time.
We talked of our passions for the mountains and soon took a casual weekend trip to the alpine Gray Knob hut on Mount Adams. This led to several more local hikes in the Fells and Blue Hills, and with them many hours of playful conversation, getting to know one another. Falling in Love? One hot hundred degree plus hike was cut short with a beer at Somerville's The Burren, and a first kiss, and on to a first date at Vinebrook Tavern.
We got to know each other slowly. It was somewhere around the David Gray concert and the Martha's Vineyard trip – turned overnight trip due to a missed ferry – where we started knowing there was something more serious happening. Each day more loving than the next.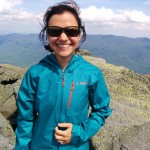 Acadia in the Fall was amazing. We celebrated Sarah's birthday week cycling, hiking and climbing among the vivid fall colors and dramatic sea-coast. Our plans for living together were forming and they were realized when Austin was accepted in a school in Jamaica Plain. The long days apart, forced by living distance, were over.
On a warm Spring day Sarah accepted Michael's proposal on the summit of Mount Madison. We ducked from the winds and the sun shone on us while a forecasted storm sat in the distance, never coming our way.
---